Basic avocado toast topped with microgreens, hemp seeds and basil cashew cream. It's the perfect breakfast or snack full of healthy fats. It's the ultimate green goddess avocado toast.
This recipe for green goddess avocado toast may seem pretty basic. Like side from the basil cashew cream, do you really need an avocado toast recipe? Technically, no you don't. But sometimes it's nice to have recipes or guidelines to use for inspiration. I hope you agree!
GREEN GODDESS AVOCADO TOAST
Your basic avocado toast just got a little elevated with a heavy dose on microgreens, hemp seeds, and the most delicious basil cashew cream. This green goddess avocado toast is packed with healthy fats, and fiber to keep you full and satisfied. The fresh microgreens add an extra of boost nutrients and a way to get in your daily greens. The toast is finished with a drizzle of basil cashew cream, making it green goddess status.
cashew basil creaM
This basil cashew cream is 100% worth the little extra effort. It's fresh and herby and incredibly versatile. It keeps well in the fridge, meaning you can use it throughout the week. Consider making it a part of your Sunday batch cooking, meal prep.
Once your basil cashew cream is made, there are endless ways to use it. Drizzle on avocado toast and eggs. Use it as a salad dressing or sandwich spread. Toss it with steamed potatoes for a basil potato salad or with pasta for an herby cream sauce. Get creative with it!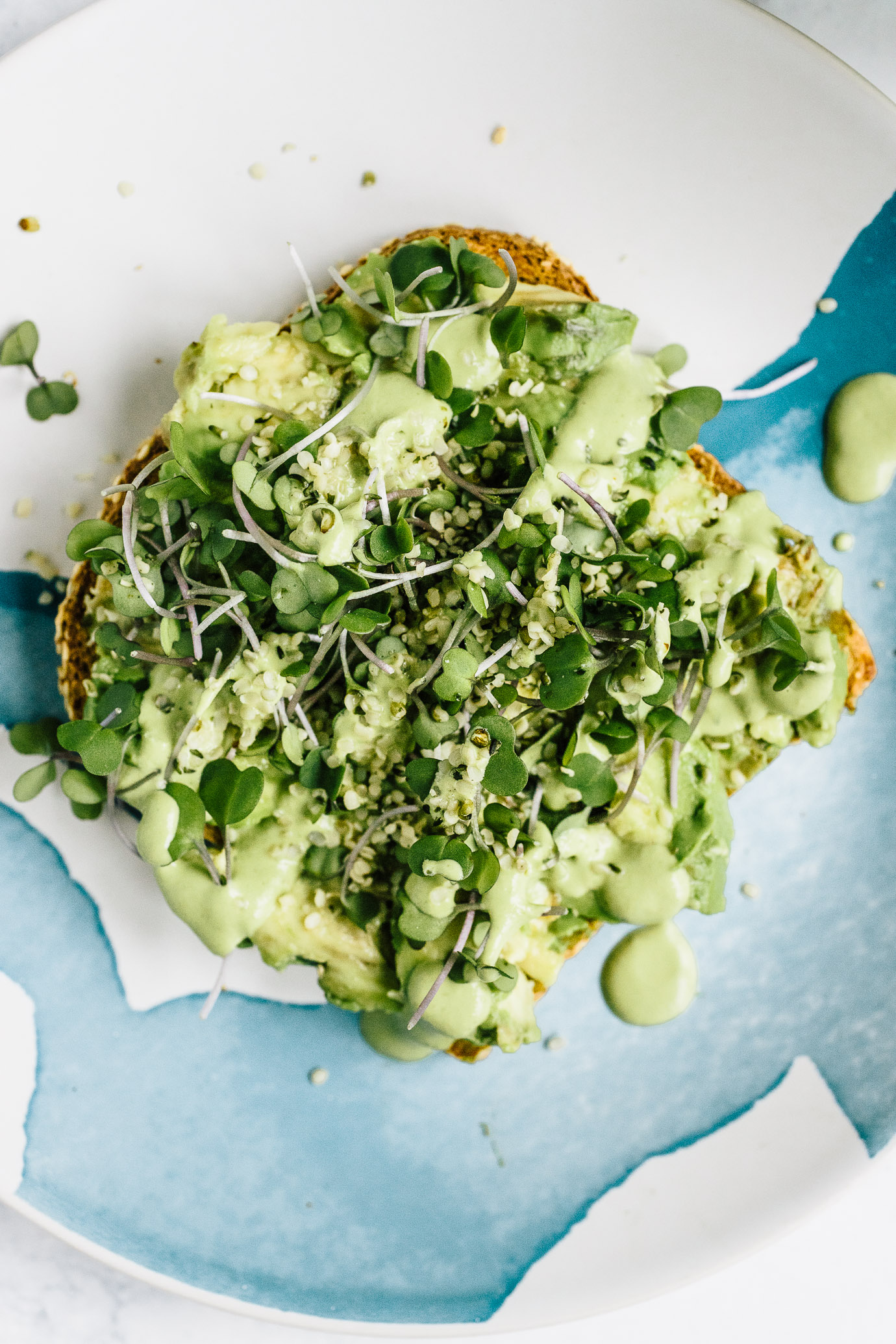 Nourished by Nutrition Facts:
Avocado – the ultimate beauty food in my opinion. This fiber-rich healthy fat helps give you luscious locks and clear, glowing skin. Avocados are a good source of vitamin K, folate, vitamin C, potassium and B vitamins. They're full of healthy monounsaturated fat, the majority coming from oleic acid. Oleic acid is the main healthy fat in olive oil that is known for its heart-protective properties. Numerous studies have shown that avocado improves "bad" LDL and "good" HDL cholesterol, as well as blood triglycerides (1).
Microgreens – these little greens are small but mighty and don't nearly get the attention they deserve. Microgreens are young vegetable greens that have a concentrated nutrient content, which means that they often contain higher amounts of vitamins, minerals and antioxidants than the same quantity of their mature plant. Studies have shown that the nutrient and antioxidant level of microgreens were up to 40 times higher than those recorded for more mature leaves (2). This means a little goes a long way!
Basil – fresh basil is known for it's fresh herby taste but its often overlooked for antioxidant properties. The most common antioxidants are orientin and viceninare, which help support immune function and cell structure. Basil has been used in ancient Chinese and Ayurvedic medicine for ages for a wide variety of ailments ranging from big bites to blood pressure regulation. The extracts or essential oils of basil are now being studied because they provide concentrated amounts of plant compounds. New studies suggest benefits for controlling blood sugar and reducing stress (3) (4).
---
IF YOU LOVE THESE MIXED BERRY CRUMBLE BARS, YOU'LL ALSO ENJOY THESE RECIPES:
Print
Green Goddess Avocado Toast
Basic avocado toast topped with microgreens, hemp seeds and basil cashew cream. It's the perfect breakfast or snack full of healthy fats. The ultimate green goddess toast.
Serves 1
1

–

2

slices sprouted bread or sourdough

1/2

avocado

2 tablespoons

microgreens

2 teaspoons

hemp seeds
salt and pepper to taste
drizzle of basil cashew cream (recipe below)
Instructions
Toast the bread. Slice the avocado in half, scoop out the flesh and mash on the slice of toast. Season with salt and pepper. Top with microgreens, hemp seeds and a drizzle of basil cashew cream.
Notes
Use this recipe as a guide. You can switch up the microgreens for sliced radishes or tomatoes. Just don't leave out the basil cashew cream. I promise it's worth the extra step.
Print
Basil Cashew Cream
1 cup

raw cashews

1 cup

packed fresh basil

3/4

–

1

cup filtered water

2 tablespoons

fresh lemon juice

1

clove garlic

1/2 teaspoon

sea salt

1/4 teaspoon

black pepper
Instructions
If you're not using a high-speed blender like a Vitamix, I recommend soaking the cashews in water for at least 6 hours or in boiling water for 10 minutes. Add all the ingredients to a blender and blitz under completely smooth. Store in an air-tight container for up to a week
DID YOU MAKE THIS RECIPE?
I'd love to hear how it turned out for you! Leave a comment below and share a picture on Instagram with the hashtag #nourishedbynutriton.