These mixed berry crumble bars are gluten-free, vegan and naturally-sweetened with maple syrup. They're perfect for a quick breakfast, snack, or healthy dessert.
As soon as the weather starts to warm I'm dreaming of summer berries and all the ways to use them. Since you all love my strawberry rhubarb crumble bars, it only felt right to make a mixed berry version. The sweet, juicy berries turn into a thick layer of jam nestled between layers of lightly sweetened oatmeal crumble. I think you're going to love these!
Mixed Berry Crumble Bars
These mixed berry crumble bars are the perfect way to take advantage of all the fresh berries throughout the summer. This recipe calls for a mix of blueberries, strawberries and cherries, but you could swap out any of those berries for blackberries or raspberries, or just add them all into the mix. Whatever variation you choose, it will be delicious.
If you don't have access to organic, reasonable priced berries, you can 100% use frozen berries. This also makes it easy to whip up these bars all year long (which I highly recommend!).
These bars get most of there sweetness from the sugars naturally found in the berries and just a touch of maple syrup. Since they're low in sugar, they're perfect for enjoying in the morning for breakfast, snack or as a healthy dessert. They're also gluten-free and vegan, which makes them fit for everyone to enjoy!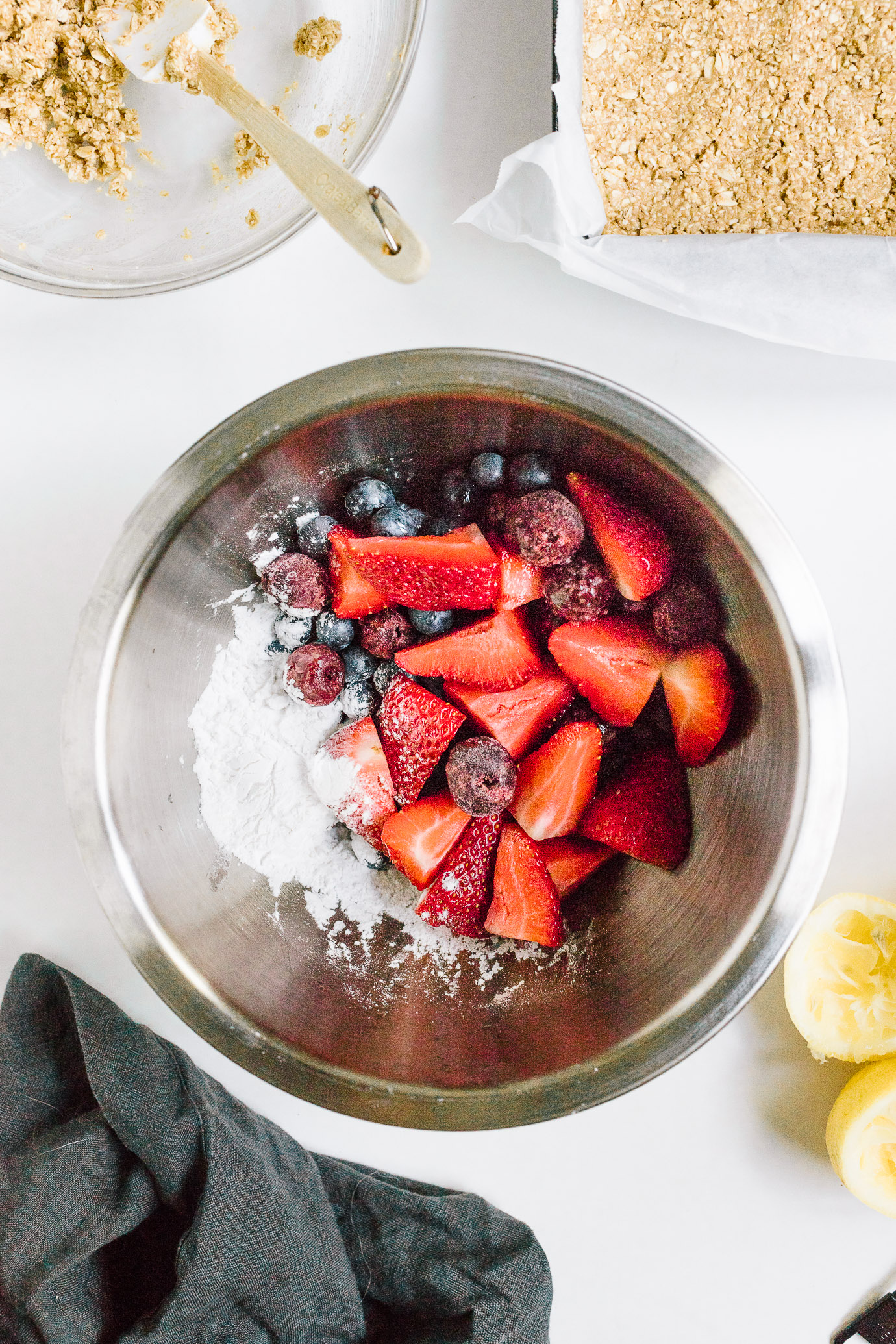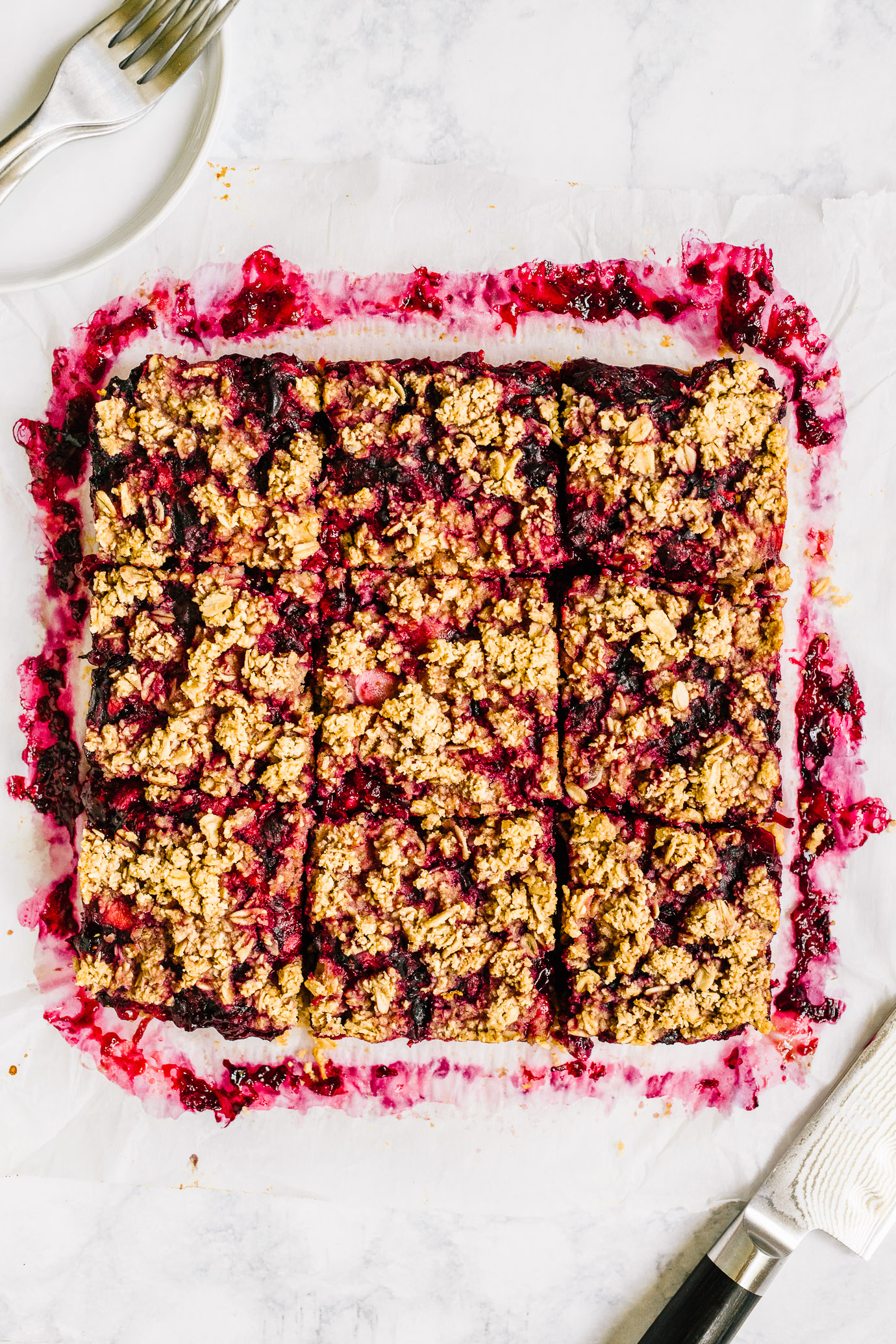 Nourished by Nutrition Facts:
Antioxidants – thanks to the berries these mixed berry crumble bars are packed with antioxidants. The bioactive compounds with antioxidant properties are vitamin C and phenolic compounds like phenolic acids, flavonoids, such as anthocyanins and flavonols, and tannins. Different berries (and plant foods in general) all come with their unique antioxidant profile (even more of a reason to eat a variety!). These antioxidants help reduce the effects of aging and play a large role in the prevention of chronic diseases such as cancer, heart disease and inflammation. (1)

Oats – hopefully, by now you know my love for oats. I love baking with oats and oat flour and having oatmeal as a post-workout snack. Oats are a complex carbohydrate that's a good source of fiber. One ½ cup serving provides 4g of fiber and contains both soluble and insoluble. Soluble fiber draws water into your intestinal tract. This helps support regular digestion, helps us feel fuller, and can help lower cholesterol and blood sugar levels. (2)

Low-sugar – these bars are sweetened with a touch of maple syrup. I'm a huge advocate for reducing sugar in order to keep blood sugar stable. This is important for managing your hunger hormones, managing cravings and preventing the unwanted sugar crash that leaves you feeling shaky and hangry later.

When choosing sweeteners, I recommend opting for natural sweeteners like maple syrup, honey or dates, if possible. Coconut sugar, date sugar, and maple sugar are other good options. However, it's best to try and reduce the amount of sugar you consume in general. This will help re-sensitize your taste buds and slightly sweet treats will taste very sweet!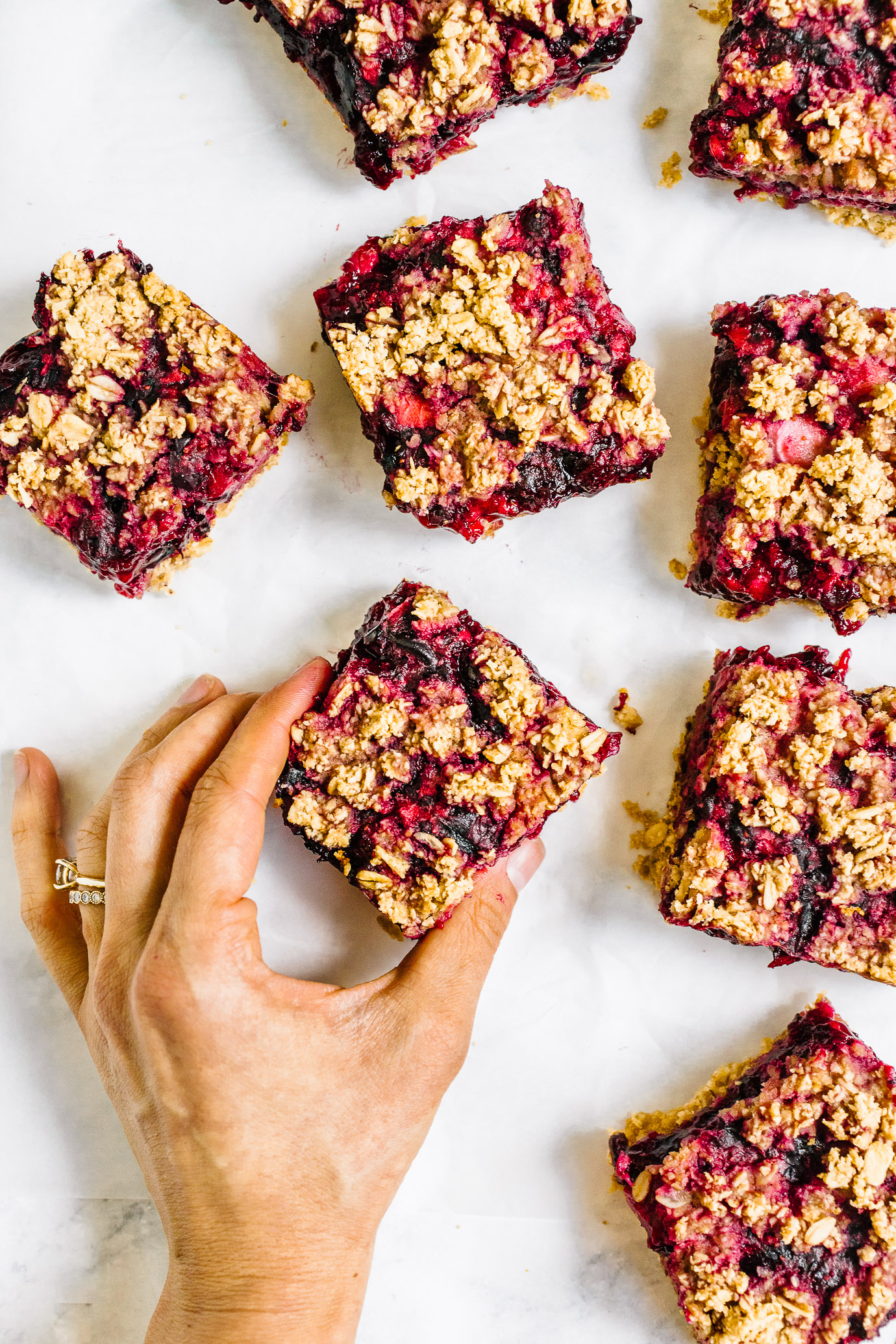 If you love these Mixed Berry Crumble Bars, you'll also enjoy these recipes:
Print
Mixed Berry Crumble Bars
These mixed berry crumble bars are gluten-free, vegan and naturally-sweetened with maple syrup. They're perfect for a quick breakfast, snack, or healthy dessert.
Makes 9-12 bars
for the crumble:
2 1/2 cups

rolled oats (divided)

1/2 cup

almond flour

1/4 cup

coconut oil

1/4 cup

maple syrup

1/4 cup

applesauce

1 teaspoon

vanilla extract

1 teaspoon

baking powder

1/2 teaspoon

cinnamon

1/2 teaspoon

salt
FOR THE FILLING:
3 cups

mixed berries (

1 cup

each of sliced strawberries, blueberries and cherries)

3 tablespoons

arrowroot powder

2 tablespoons

lemon juice

3

–

4

tablespoons maple syrup (optional)
Instructions
Preheat oven to 350°F. Line an 8×8 square baking pan with parchment paper and set aside.
Add two cups of rolled oats to an upright blender, or food processor fitted with a metal "s" blade, pulse the oats until ground down into a flour. Transfer to a large bowl, add the remaining 1/2 cup rolled oats and the rest of the crumble ingredients. Using a spatula or your hand combine the ingredients until the dough begins to stick together.
Measure a heaping 1/2 cup of the dough for the topping and set aside. Spread the remaining dough evenly into the prepared pan. Press firmly and flatten into the bottom, sides, and corners. It may help to slightly oil or wet your fingers or spatula.
Wipe out the food processor and add the fruit. Pulse until the fruit is broken down into small pieces. Transfer to a mixing bowl and add the arrowroot powder and lemon juice.
Spread the filling evenly over the crumble crust. Take the remaining crumble dough and use your fingers to break it up evenly over the fruit filling. Gently push the crumble dough into the filling to set. Bake for 40-45 minutes, or until the top is golden brown and filling is bubbling. Let the bars cool completely before slicing.
Notes
These crumble bars are naturally sweetened with just a touch of maple syrup. If your berries aren't super sweet, you can add 3-4 tablespoons of maple syrup to the filling. If you plan on serving these as a dessert with ice cream, having the bars a little less sweet makes for a nice balance.
You can use fresh or frozen berries. If using frozen berries let them thaw slightly before processing. You may also need one extra tablespoon of arrowroot starch.
It's best to cut these bars after they've cooled completely. This ensures that the filling firms and you can pick them up with ease. If you just can't wait, know you'll need a fork.
Did you make this recipe?
I'd love to hear how it turned out for you! Leave a comment below and share a picture on Instagram with the hashtag #nourishedbynutriton.