These cacao tahini collagen bites are a version of my cashew coconut collagen bites. But this time I did my best to keep the ingredient list a little more simple while still providing a variety of nutrients. I'm so happy with the results and I think you'll be too. This version still has all the goodness of healthy fats, collagen peptides and naturally sweetened only with dates but it tastes like a fudgy chocolate treat. You could totally get away with calling them brownie bites!
Cacao Tahini Collagen Bites
For this cacao tahini version, cashews make up the base. This lends a subtle sweetness to the dough that offsets the nuttiness of the tahini and dark cacao. The balls come together with few dates for sweetness, a splash of vanilla, cacao powder and tahini for a delicious nutty flavor and a boost of minerals, and collagen peptides.
I'm a huge fan of collagen peptides. I use them daily in my morning matcha and regularly add a scoop to oatmeal, lattes or to baked goods when I want an extra boost of protein. Collagen peptides can help support a healthy gut, strong hair and nails, and help reduce the appearance of saggy skin and wrinkles. Want to know more? You can read all about this protein option in my ultimate guide to collagen.
These fudgy cacao tahini collagen bites make for a perfect grab-and-go snack or healthier dessert. If you've got 10 minutes, take the time to whip up a batch of these snack bites. You'll love having them on hand for quick nutrient-dense on-the-go snacks.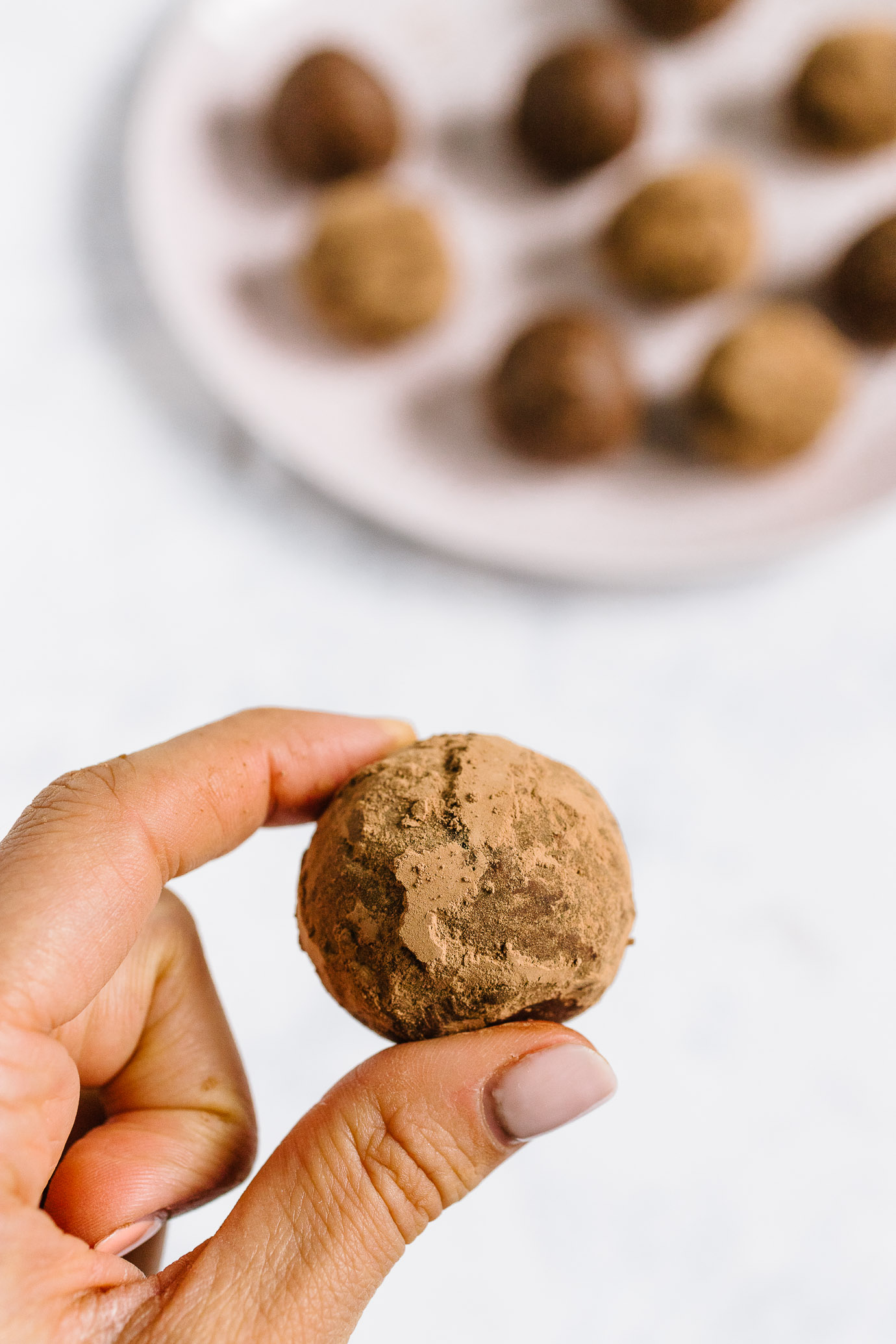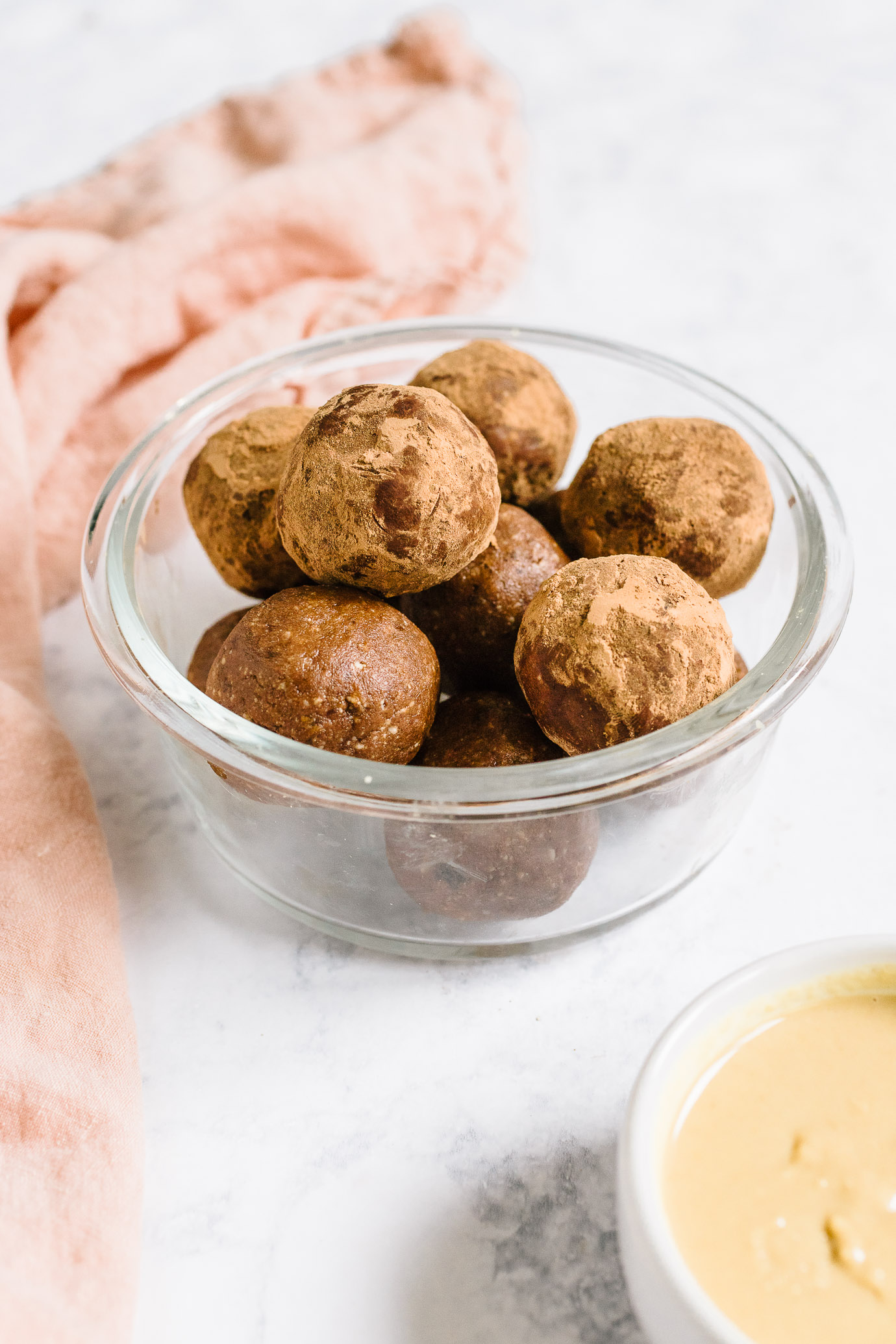 Nourished by Nutrition Facts
Tahini – tahini is a paste or seed butter made of sesame seeds. It's traditionally used in Middle Eastern cooking and most commonly recognized in hummus and baba ghanoush. If you're not already using tahini regularly, I recommend incorporating it into your diet. Tahini is extremely rich in minerals. It's a great source of plant-based calcium and iron, which can be hard to come by especially if eating a mostly plant-based or a vegan diet. It's also an excellent source of the lignans, sesamin and sesamol. Lignans are antioxidant polyphenols that can help support the immune system and balance hormone levels.
Iron – iron has an extremely important role in the body. It carries oxygen in red blood cells throughout the body so cells can produce energy. When iron stores become low, not enough normal red blood cells can be made to carry oxygen efficiently. The result is iron deficiency anemia. Animal protein contains the most bioavailable source of iron. But plants contain iron also! Spinach and beans, sprouted grains, tahini, and cacao are all sources of plant-based iron.
Tahini and cacao are good sources of plant-based iron. Per two tablespoons there is 1.6mg of iron in cacao and 2.6mg of iron in tahini. This is 8% and 14% of the recommended intake of iron for women and 20% and 33% for men.
It's important to note, that plant-based iron absorption needs the help of vitamin C. Make sure to eat plant-based iron-rich foods with a good source of vitamin C, such as citrus fruits, kiwi, strawberries, bell peppers or broccoli.
Calcium – calcium is important for strong bones and maintaining this strength as we age. Despite popular belief, milk and dairy products aren't the only way to get calcium. White beans, soybeans, chickpeas, tahini, oranges, and figs all contain a moderate amount of calcium. Two tablespoons of tahini contain 128mg or 12% of the recommended daily intake of calcium.
If you eat mostly plant-based, dairy-free or vegan it's especially important to pay attention to your daily calcium intake. The recommended intake of 1000 mg/day for individuals ages.
---
IF YOU LOVE THESE cacao tahini collagen bites, YOU'LL ALSO ENJOY THESE RECIPES:
Print
Cacao Tahini Collagen Bites
A nutrient-dense, no-bake snack bite made from healthy fats and collagen protein. These cacao tahini collagen bites are naturally sweetened only with dates and taste like a chocolate treat.
Makes 15 bites
1 1/2 cup

cashews (can sub pumpkin or sunflower seeds)

5

pitted medjool dates

1/4 cup

(

2

scoops) collagen peptides

3 tablespoons

cacao powder

1/3 cup

tahini

2 teaspoons

vanilla extract
pinch of sea salt
Instructions
In a food processor, blend the cashews into a fine meal. Then add the dates and process until a crumble forms.
Add the collagen, cacao powder, tahini, vanilla and salt. Pulse until ingredients come together and start to form a dough. This will take about 15-20 pulses or about 30 seconds.
Scoop a heaping tablespoon of the mixture and roll into a ball. Repeat with the rest of the mixture. You should end up with about 15 bites. Once formed you can roll in cacao powder if desired. Store in an airtight container in the fridge for 2 weeks or freezer for a couple months.
Notes
For a nut-free version, sub the cashews for pumpkin seeds or sunflower seeds.
Vegan option: Collagen is not vegan. You could make a protein ball by substituting a plant-based protein for the collagen but you will need more liquid. I'd start with 1-2 tablespoons of filtered water or plant milk. Increase 1 tablespoon at a time as needed.