This strawberry baked oatmeal with hemp seeds makes for a delicious healthy breakfast with an added protein boost from collagen peptides. Perfect for meal prep or weekend brunch. ! Perfect for meal prep or weekend brunch.
Who else loves baked oatmeal? Honestly, I love all oatmeal for it's warm, cozy vibes. This strawberry baked oatmeal is my go-to when I want to meal prep breakfast or need an easy breakfast to serve a crowd. It's incredibly versatile and very forgiving. You really can't mess it up!
I love serving it with a dollop of Greek-style yogurt or spreading it with almond butter (or both!). You could also serve it alongside eggs, like this frittata. This helps balance out the meal with healthy fats and protein to help you feel satisfied and keep your blood sugar balanced.
What is baked oatmeal
In case you're unfamiliar with baked oatmeal, it's a dense and chewy version of oatmeal that's baked in the oven rather than the stove-top. Think of it as a cross between a soft, chewy granola bar and dense, hearty oatmeal. It's traditionally made by stirring rolled oats into a mixture of eggs, milk, sugar and any other add-ins you'd like. Once it's mixed, you bake it in the oven until the edges are golden and caramelized and the oats have absorbed all the liquid. It can be served hot or cold with a drizzle of almond milk, a dollop of Greek-style yogurt or a slather of your favorite nut butter.
Strawberry Baked Oatmeal with Hemp Seeds
This strawberry baked oatmeal is the perfect balance of cozy oatmeal and bright fresh flavor from the strawberries. It's lightly sweetened with just a touch of maple syrup. Not much sweetener is needed thanks to the fresh strawberries. Once baked, the strawberries turn into a sweet, jammy fruit that provides a delicious flavor and a little extra sweetness. Think of it as nature's homemade jam.
This strawberry baked oatmeal is a great addition to your Sunday meal prep. While it may take a little longer to make than microwaving a bowl of oatmeal, having your breakfast ready to go will save you so much time throughout the week. It can be eaten both cold and warm, so no matter how busy your morning, you'll be sure to have a satisfying and delicious breakfast.
To balance out this meal, I recommend serving with yogurt and a drizzle of nut butter or a side of eggs. This ensures you're getting the protein and healthy fat necessary to keep you full and satisfied.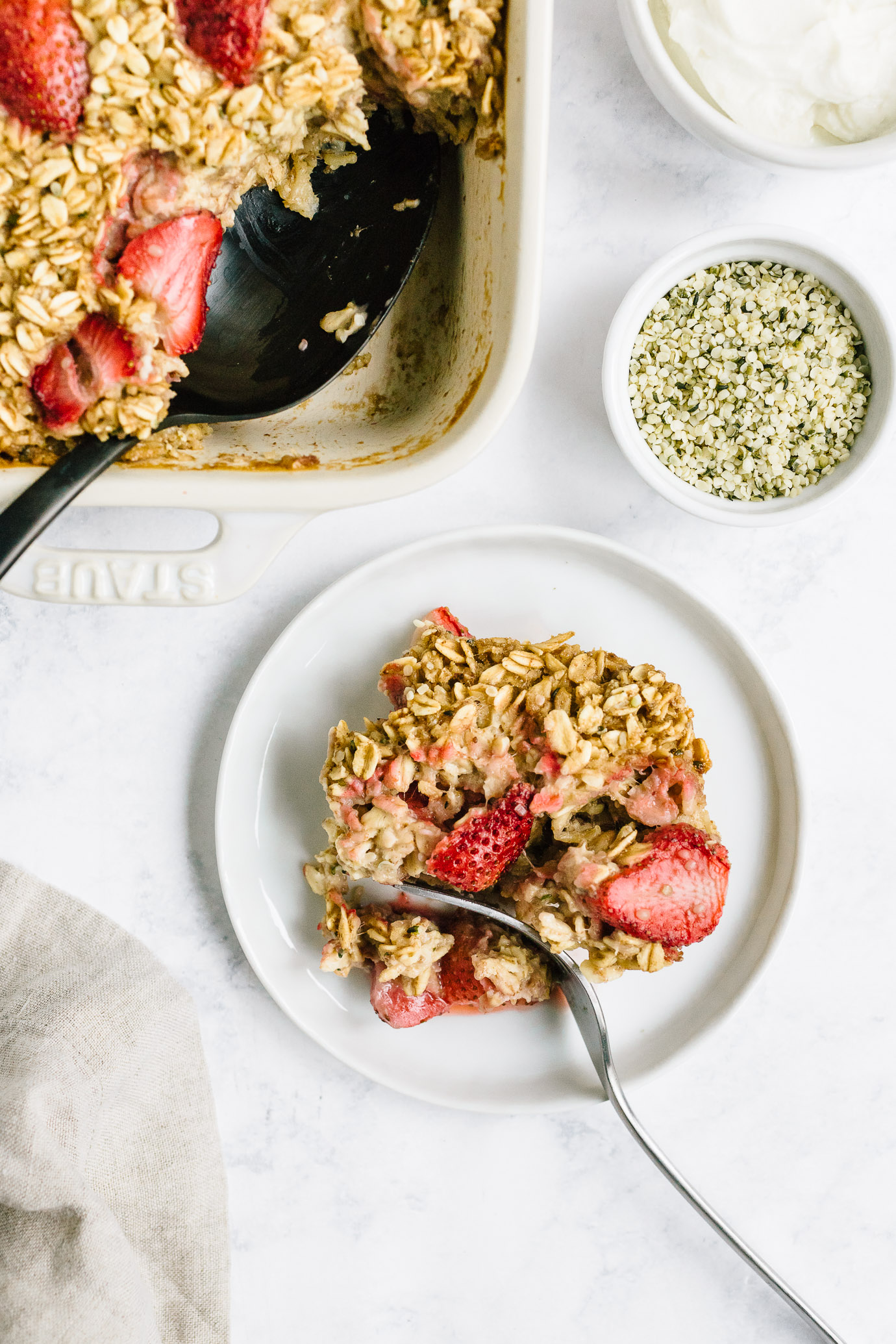 Nourished by Nutrition Facts:
Oats
Oats are a complex carbohydrate and a good source of fiber. Fiber is essential for digestion and most people aren't getting enough. It's recommended to get about 25 to 38 grams of fiber a day (although, I recommend more!). One ½ cup serving provides 4g of fiber and contains both soluble and insoluble. Soluble fiber draws water into your intestinal tract. This helps support regular digestion, helps us feel fuller, and can help lower cholesterol and blood sugar levels (1).
Strawberries
These sweet berries are low in sugar and a good source of fiber. Strawberries are also an excellent source of vitamin C which is acts as an antioxidant and is so important for immune health. They contain 25 different anthocyanins which are a type of antioxidant and give food its beautiful color (2). Anthocyanins have been shown to have benefit heart health and blood sugar control.
Hemp seeds
Aka "nature's sprinkles". Hemp seeds are an excellent source of omega-3 fatty acids. They are the one food that has the perfect 3:1 balance of omega-6s to omega-3s. This is very important for keeping inflammation in check. Hemp seeds are also one of my favorite plant-based proteins. They are one of the few plant-based sources of all essential amino acids, making them a complete protein (3).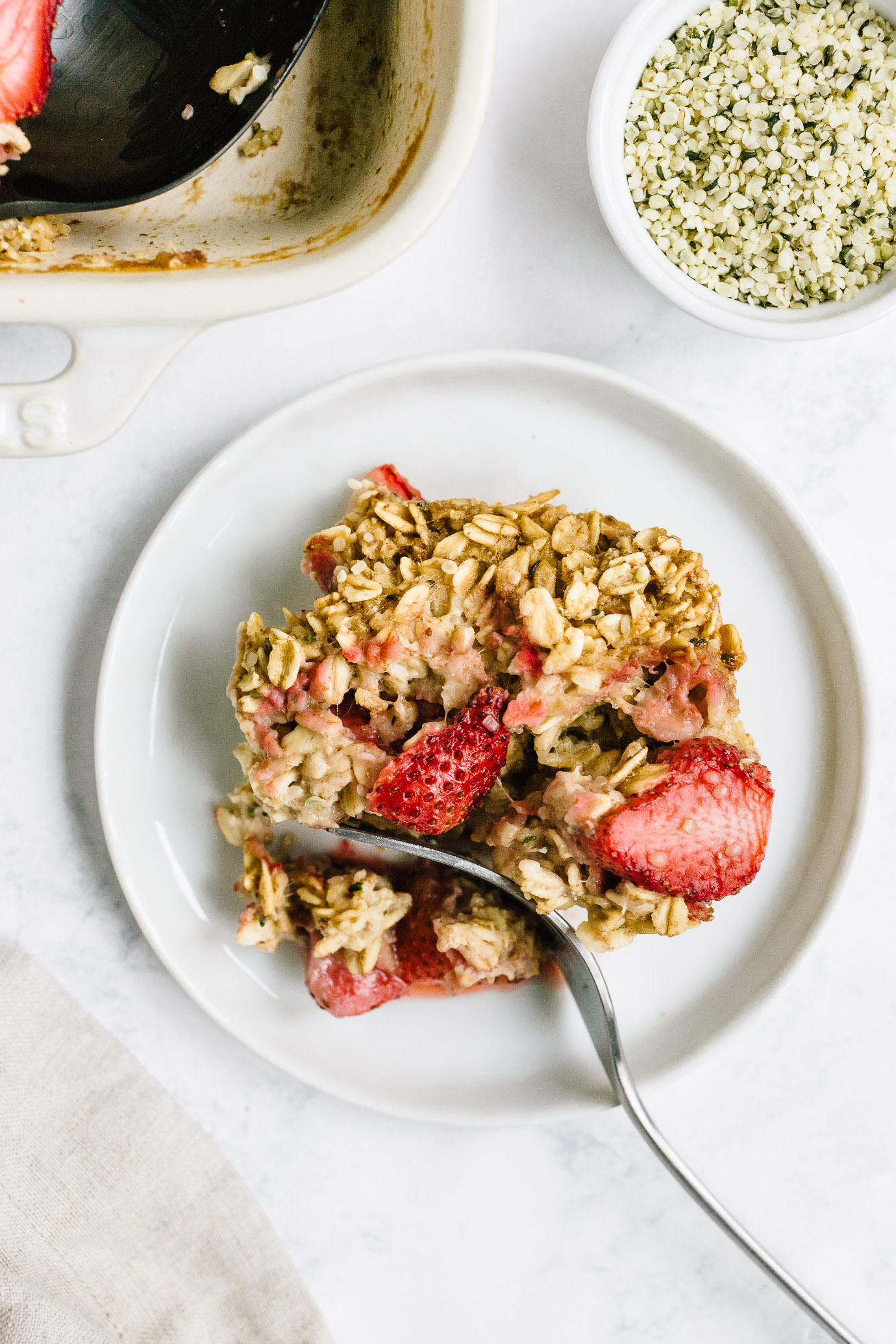 IF YOU LOVE this baked oatmeal, YOU'LL ALSO ENJOY THESE RECIPES:
Print
Strawberry Baked Oatmeal with Hemp Seeds
This strawberry baked oatmeal makes for a delicious healthy breakfast with an added protein boost from collagen peptides. Perfect for meal prep or weekend brunch.
2 cups

rolled oats

2 tablespoons

hemp seeds

2 tablespoons

ground flax or ground chia seeds

1 teaspoon

vanilla

1 teaspoon

baking powder

1/2 teaspoon

cinnamon

1/4 teaspoon

salt

2 1/4 cups

almond milk

2 tablespoons

maple syrup

1 cup

sliced strawberries

1/4 cup

collagen peptides (optional)
Instructions
Preheat the oven to 375F. Lightly grease an 8×8 or 9×9 inch baking dish with avocado or coconut oil.
Mix together the oats, ground flax/chia, hemp seeds, baking powder, cinnamon, and salt. Add in the almond milk, maple syrup, vanilla and 1/2 the strawberries and gently mix. Let stand for about 5-10 minutes so the oats and flax/chia have time to absorb some of the liquid.
Pour the mixture into the baking dish and top with the remaining strawberries. Place in the oven for 40-50 minutes. The larger your baking dish the less time it will take for the oatmeal to set. It's ready when the top starts to brown and the middle is set. You can test this by poking the center with a toothpick or knife. It will come out clean when it's ready. Remove and let cool for 15 minutes before serving.
Serve with a splash of milk or top with yogurt or nut butter of choice. Store leftovers in an airtight container in the fridge for 4-5 days.
Notes
Feel free to use any fresh or frozen berries you have on hand. Sliced bananas or dates would be delicious also.
Baked oatmeal is great for meal prep. It can be eaten hot or cold. Just make sure to balance it out with protein and healthy fats. I recommend serving with yogurt and a drizzle of almond butter.
To Reheat: Reheat a single portion on the stove-top or microwave with a splash of almond milk. To reheat the entire dish, covered with foil, and place in a 350F oven until warmed through, 15–20 minutes.