This recipe for kale and white bean soup is incredibly easy to make and is packed with fiber and protein. It's light but filling, with a zing of flavor from the lemon. It's the perfect transitional meal as we move from winter to spring.
One of my favorite ways to transition into spring is with a bright and brothy soup. This kale and white bean soup with lemon is cozy enough for the cold winter days that continue to linger around but also light enough for a refreshing meal that our body starts to crave as we head into spring. And this soup could not be easier. Just chop, sauté, simmer, and dinner is ready!
Kale and White Bean Soup with Lemon
Choosing fresh, high-quality ingredients let the flavors shine in this recipe. The veggie broth is seasoned with garlic, thyme and a hint of red pepper flakes for a little heat. There's a good amount of veggies from the onions, carrots and kale, and protein from the navy beans. The soup gets finished off with lemon juice which adds a bright acidity as well as providing vitamin C which is necessary for your body to absorb the iron in the kale and white beans. It's just as delicious as it is nourishing.
This soup is light and filling. Balance this meal out with some avocado toast, a slice of vegan nut and seed loaf or some Simple Mills crackers. This will add a good about of healthy fat to your meal.
This kale and white bean soup is great for meal prep. In general, soups are perfect to meal prep for the week ahead. They are pretty effortless and flexible enough to work with the ingredients you have on hand. Spending a little time batch cooking a nutrient-dense soup makes eating well during the week easy. You have a prepped lunch to take with you or a healthy home-cooked meal waiting for you after a long day. Another beauty of meal prepping a large batch of soup is that as it sits in the fridge the flavors mingle and intensify, making it even more delicious over the next few days.
Nourished by Nutrition Facts
Navy beans – these little white beans not only are a good source of plant-based protein but they are also full of fiber, vitamins and minerals. Navy beans are particularly high in iron and folate, which are two of the essential nutrients plant-based eaters need to pay a little closer attention to. Due to their high fiber content, navy beans can help reduce symptoms of metabolic syndrome, as well as help stabilize blood sugar and reduce blood pressure. (1)
Kale – this leafy green is one of the most nutrient-dense foods you can eat. It's rich in vitamin, mineral and antioxidants, and is also a powerful natural detoxifier. It's full of fiber and is an excellent source of vitamin K, vitamin A and vitamin C. It also contains minerals, like calcium, potassium and magnesium, that most people don't get enough of in their diet. Kale also contains antioxidants including beta-carotene and vitamin C, as well as various flavonoids and polyphenols that have been shown to lower blood pressure and cholesterol, as well as have anti-inflammatory, and anti-cancer effects. (2)(3)(4)
Prebiotics – prebiotics are types of fiber that feed the good bacteria in our intestinal tracts. In order to maintain a healthy gut microbiome we need a healthy balance of good bacteria and also make sure they are being properly fed with prebiotic foods. Prebiotic foods include oatmeal, sunchokes, onions, garlic, leeks and legumes, just to name a few. This soup contains three prebiotic foods – garlic, onion and white beans – which make it a great meal to support a healthy digestive system.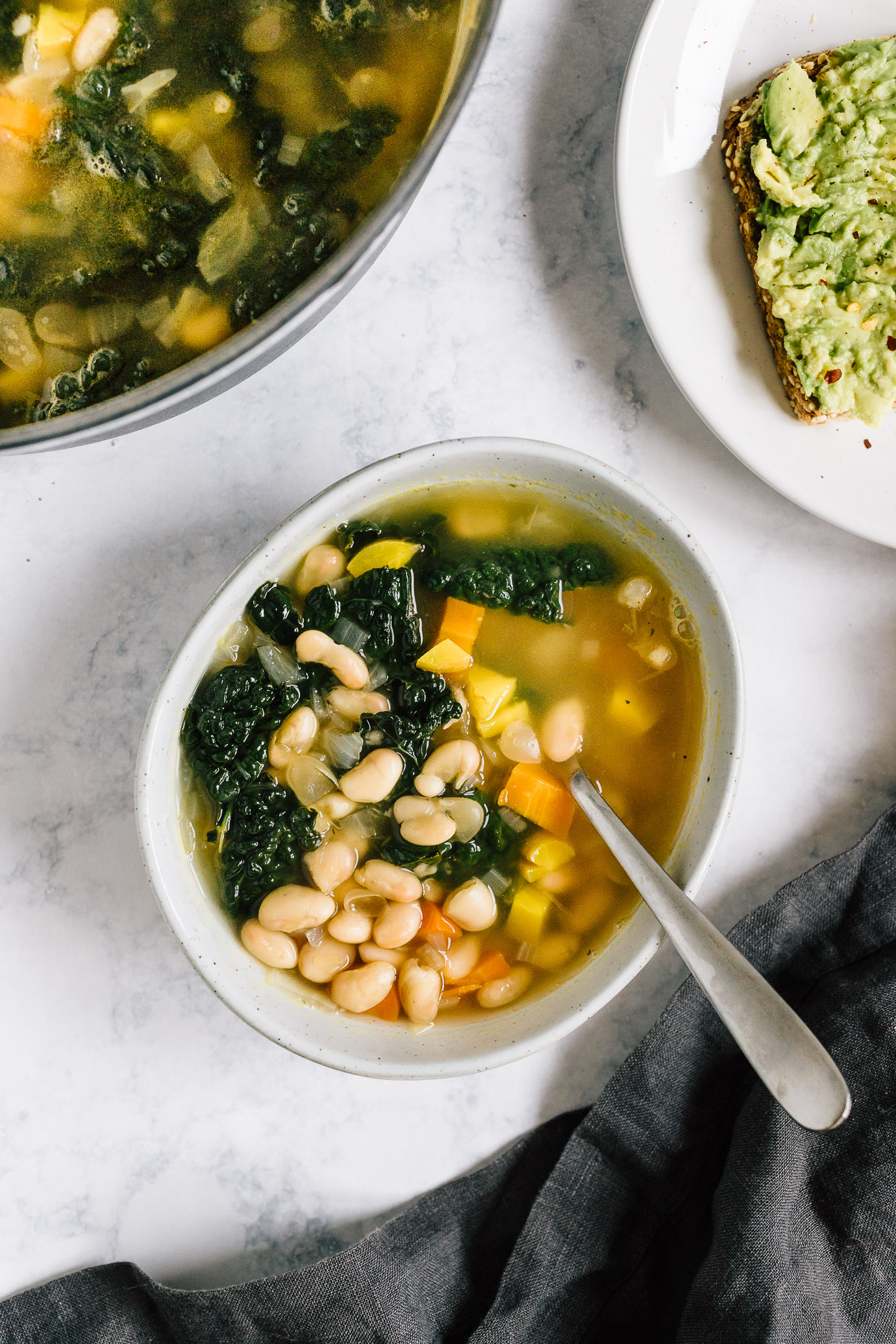 IF YOU LOVE this kale and white bean soup, YOU'LL ALSO ENJOY THESE RECIPES:
Print
Kale and White Bean Soup with Lemon
This soup is light but filling, with a zing of flavor from the lemon. It's the perfect transitional meal as we move from winter to spring. Keep it vegan or add pulled chicken for additional protein.
Servings 4-6
1 tablespoon

avocado oil

½

medium yellow onion, diced

2

medium carrots, diced

2 teaspoons

minced garlic

½ teaspoon

dried thyme

¼ teaspoon

crushed red pepper flakes

1 teaspoon

sea salt

½ teaspoon

fresh ground black pepper

2

, 15 oz cans navy beans, drained and rinsed

4 cups

vegetable stock

2 cups

water

3 tablespoons

fresh lemon juice

1

bunch chopped lacinato kale, stems removed
Instructions
Heat the oil in a medium-large soup pot over medium heat. Add the onions and carrots to the pot and stir. Sauté the vegetables until slightly softened and translucent, about 5 minutes.
To the pot, add the garlic, thyme, chili flakes, salt and pepper. Stir and cook until garlic is fragrant, about 30 seconds. Add the navy beans to the pot and stir. Add the vegetable stock and water to the pot and stir once more. Bring the soup to a boil. Reduce heat and let simmer for at least 10 minutes.
Bring the soup back to a boil, then add the lemon juice and kale. Let wilt for about 2-3 minutes. Once the kale is slightly wilted and bright green, season the soup once more with salt and pepper, if you find it necessary.
Store the leftovers in an airtight container in the fridge for 5-7 days or in the freezer for a few months.
Notes
Feel free to substitue cannellini beans for the navy beans. Substitute any greens of choice (spinach, Swiss chard, collard greens) for the kale.
Chicken Option: Add two cups of cooked, shredded chicken to the soup along with the white beans. Using an organic rotisserie chicken makes this recipe come together quickly. Plus, you can use the extra chicken in another meal throughout the week.